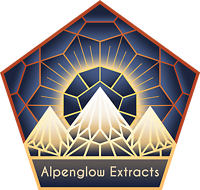 Alpenglow Extracts is a company that focuses on producing high quality, small batch runs of live resin made with only the best strains from farms all a crossed the state of Washington. Every batch of oil is completely unique. Usually each batch is a blend of oils and terpenes from multiple farms often made with fresh frozen material but can also contain extractions from the best dried and cured buds available. Alpenglow extracts creates some of the most unique blends of oil in Washington State. The mixes are proprietary but if you follow their Instagram account you can sometimes catch glimpses as to what's in some of the mixes. Soon they will be releasing some more terp doughs! I got a chance to try a couple of their concoctions and I was quite impressed, here were my thoughts.
Grapefruit Paradise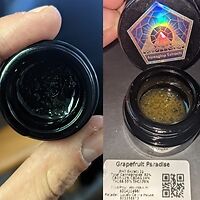 When I tried the Grapefruit Paradise I had not yet had a glimpse at their Instagram to see how beautiful their oil is. The containers are completely blacked out which I really enjoy because it means it preserves the quality of the oil, but it means you can't see inside easily. At first glance I was a bit nervous, the diamond and sauce consistency looked clear so I couldn't tell what I was looking at at first. I took a picture with my flash and then I was much happier.
The smell was good and flavorful like grapefruit and berries but I was expecting the smell to be way stronger for the price point it was at, so I was still a little nervous. Dabbing it melted all my nervousness away. The Grapefruit Paradise was very smooth and had a rich flavor of grapefruit and berries and the flavor stays in your mouth for a while and leaves you savoring over the flavor of it wanting another dab. I smoked a couple rosins to compare and contrast them together and I thought some of the rosins may of had a stronger punch of a flavor but I still prefer the Grapefruit Paradise because it was a richer flavor. My mouth was watering from the flavor and kept me wanting to dab it again and again.
At first I wasn't sure about the strength of the high and I was unsure if I wanted to go for this strain again but the high is a creeper and changed my mind. It is relaxing but also very euphoric and creative and definitely on the sativa side. Even though it is relaxing it keeps me awake and makes me want to be active. When I first tried it I was doing overnight shifts and was up for 16 hours but this strong sativa helped me power through the day and I stayed up for almost 24 hours straight dabbing this and was able to crash hard and reset my sleep schedule back to normal.
Rainbow Endz
This strain was an absolute delight. Smells and taste just like rainbow belts candy and like the Grapefruit Paradise it has a really rich flavor. The high is slow building and is a balanced hybrid that is long lasting. This strain would be nice for watching TV, a nice walk outside, or any more kicked back and relaxed activities.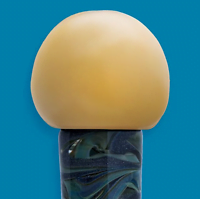 What I enjoy about both Alpenglow Extracts that I've tried is that they are super smooth, smoother than a lot of rosin I've tried. Locals currently has other strains from Alpenglow Extracts that I can not wait to try like Zour Grapez, BLT, and Slam Dunk. Looking forward to getting my hands on the new rounds of terp doughs!